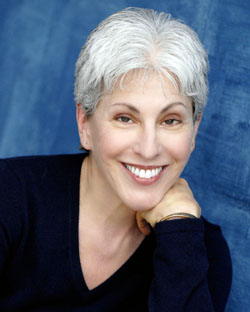 So, I've been doing a bang up job with the diet for two weeks. I'm not seeing as much visible weight loss as some of our #Perfect10Diet compadres, but I think that's because I've been lax about portion sizes. Something I must work on! In spite of that, my energy is definitely up, my skin is looking better, and I'm learning a heck of a lot about food and nutrition.
Biggest thing I'm learning is there is a LOT more to learn. Shopping for healthy food, and cooking in a healthy way -- that can seem overwhelming some days, and it's very tempting to just give it up and head for the nearest drive-thru. (DON'T!). Instead, join us tonight on Twitter at 8pm ET for a #Pefec10Diet TwitChat with our very special guest, Mollie Katzen (@MollieKatzen).
If you don't know, Mollie is one of the best-selling cookbook authors of all time, a sought-after public speaker, an incredibly gifted designer, a charter member of the Harvard School of Public Health Nutrition Roundtable and an inaugural honoree of the Natural Health Hall of Fame. Not enough credentials for you? How about this: Since 2003, Mollie has been a consultant to Harvard University Dining Services, and co-creator of their new Food Literacy Project. She is also a culinary advisor to the University of California at Berkeley, a nationally syndicated columnist through the Chicago Tribune, and a contributing editor for Shape Magazine.